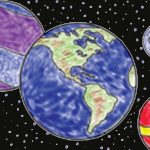 This one did! Click play below to give the song a listen. You can also download the song from our radio player. No need to thank us. All in a day's work. -Jim The Song That Saved The World appears on the award-winning Songs With No Character.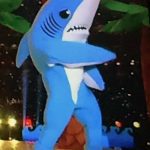 I love sharks. They have been on the planet longer than trees and yet there is still so much we don't know about them. Sharks constantly need to swim in order to breathe. Generally, they eat and swim in the ocean. Every day. It would have to get kind of
Read more posts
"Shark Sandwich"
ScribbleMonster presents Shark Sandwich – a musical snack containing two summer songs sandwiched between a song about a shark that loves to play guitar. "Our Summer Song" celebrates the arrival of summer, while "What's the Big Idea?" briefs the creative process. Hear them on our ScribbleRadio. Shark Sandwich is now available just about everywhere music is sold. Ask for it by name!
"Ready for Summer?"
We are too! We're busy scheduling musical playdates at libraries, park districts, camps, festivials, and other special events all around town for summer 2015. Want to make a musical playdate? Contact us today!