No upcoming shows scheduled.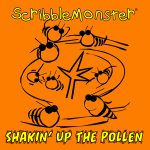 Like everyone else, I've been hearing about the disappearance of the bees for the last several years. The bees! The bees! What's the deal with the bees? When you take a moment to check it out, it's kind of a big deal and we do have a lot of the
Read more posts
"Shark Sandwich"
ScribbleMonster presents Shark Sandwich – a musical snack containing two summer songs sandwiched between a song about a shark that loves to play guitar. "Our Summer Song" celebrates the arrival of summer, while "What's the Big Idea?" briefs the creative process. Hear them on our ScribbleRadio. Shark Sandwich is now available just about everywhere music is sold. Ask for it by name!
"Summer Fun!"
It's been a long Chicago winter, but warmer weather's finally here!  ScribbleMonster has many free library and concert in the park performances throughout Chicagoland this year. Please check our calendar with yours and let's make a musical play date!